A Tuesday report released b the UN confirmed in considerable detail misdeeds by the Saudi-led coalition in Yemen, killing thousands of civilians in Yemen, raping and torturing detainees, and using child soldiers. The report warned these may amount to war crimes.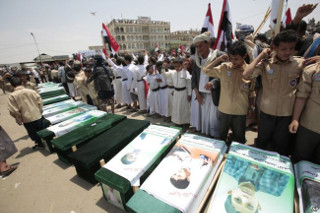 While they didn't specifically dispute any of this, Saudi Arabia was predictably furious about the report, angrily condemning it as having "misconstrued the facts of the conflict… ignoring the true reasons for the conflict," while saying that it was an Iranian coup against the "legitimate government in Yemen."
While previous UN resolutions more or less accepted the Saudi narrative that the war is meant to reinstall the Hadi government, that massive death toll and the many, many war crimes committed have fueled a lot of international consternation.
Still, UN reports detailing war crimes by the Saudi coalition have been met by Saudi condemnation, and in the past that, combined with US support for the war, has been enough to keep the UN from doing anything in particular about the situation. The UN General Assembly has repeatedly acquiesced to demands that the Saudis be allowed to investigate themselves on the war, which has meant probes are rare, and never come up with anything meaningful.