On Wednesday, another round of fighting erupted on the outskirts of the Libyan capital of Tripoli. The forces loyal to the UN-backed "unity government" were fighting militias from the Seventh Brigade faction.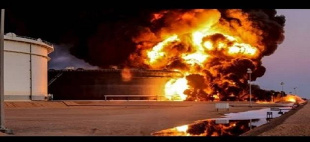 Militia leader Salah Badi and his fighters were an important part of the fighters loyal to the previous coalition government in Tripoli. Badi has called on free Libyans to take up arms and free Tripoli from corruption.
The fighting does substantial harm to the unity government's effort to portray Tripoli as a relatively stable capital for war-torn Libya, and one that international diplomats can feel secure setting up embassies in. The unity government has long struggled to gain substantial territory outside the capital, even with Western support.
The biggest problem, however, is that the fighting in this round of clashes got close to the Ain Zara detention center, where the unity government was holding about 400 detained internally displaced people. The displaced were held under lock and key, and when the fighting started, the guards fled, leaving the hundreds of civilians locked up with no food or water.