With reports that the negotiations between the US and North Korea are already on the brink of collapse, Defense Secretary James Mattis has suggested that the US is poised to restart major military exercises on the Korean Peninsula.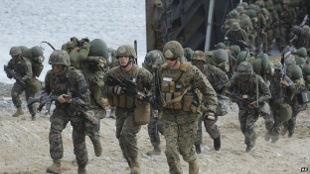 The US had frozen such wargames after the Trump-Kim summit, with Trump conceding that they were "provocative" and that he wanted to lower tensions. The wargames in South Korea are, almost without exception, simulations of joint attacks on North Korea.
Which just a few months ago wasn't a signal the US wanted to send to North Korea. Now, the situation is less stable, and North Korea has been pushing hard for a peace treaty that the US simply refuses to accept. This is certain to make the wargames even more provocative than before.
Mattis said small-scale exercises have continued since the talks, and that there are "no plans" for any more postponements. President Trump has not commented, but previously claimed the US would save a fortune by not having so many wargames.