17 years into the US-led invasion and occupation of Afghanistan, the war is going poorly,and a large number of US troops are still on the ground. There is no end in sight. Officials, however, say that's not the plan forever.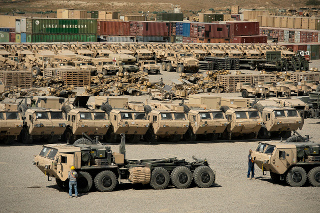 According to Joint Chiefs of Staff Chairman Gen. Joe Dunford, neither he nor the Pentagon in general expect that the "current form" of the US military mission in Afghanistan, a practically permanent US deployment in a protracted fight with insurgents, is going to last forever.
That said, officials are being awfully vague on what comes next. Gen. Dunford would only say that the form of the US deployment will "change over time," while his talk of permanent US interests in the region suggest that the US isn't exactly planning to leave.
Facing growing pressure to show some sort of progress in what by all appearances is an unwinnable war, the Pentagon continues to hype the idea that the Taliban's willingness to engage in peace talks proves that progress is being made militarily.
That narrative seems to be more designed to keep the White House from making changes to the failing war than to represent anything real. US officials are barely approaching peace talks with the Taliban, and recently spurned a Russian effort to put together a multinational conference to that end.