Summoned to parliament amid a growing crisis that has seen the sacking of the Iranian finance and labor ministers, President Hassan Rouhani has faced a vote of formal censure. The hardliners in parliament criticized Rouhani's economic policy and rejected his explanation for recent struggles.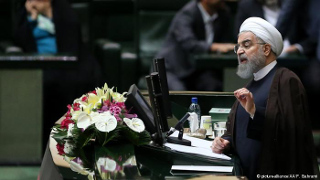 The censure in theory isn't a huge matter, but does suggest a practical turning point in Iranian politics, as the reformist Rouhani was lambasted by hardliners on live TV and publicly blamed for a currency collapse and surging inflation.
US officials have presented the collapse of the Iranian rial as a function of their sanctions. Rouhani and other officials in his government have pinned it on mismanagement by bureaucrats, and pushed for more reforms, saying that Iran can definitely weather the US sanctions.
But in his comments, Rouhani saw bigger problems on the horizon, warning that he believes many people have lost faith in the future of Iran's Islamic Republic, and doubt it will survive. Though he sees both US hostility and economic problems as something Iran can overcome, retaining the public confidence is another matter, and one the political hardliners could clearly look to exploit.