While State Department officials insist that a phone call between Secretary of State Mike Pompeo and new Pakistani Prime Minister Imran Khan went well, the two sides strongly disagree about what was actually discussed.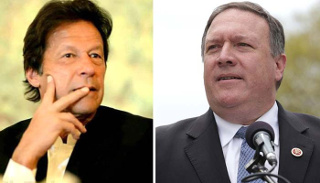 The State Department said Pompeo had pressed Khan about the terrorists operating inside Pakistan and demanded "decisive action" against all of them. Cross border terror is a popular topic for US officials, seeking to blame Pakistan for failures in Afghanistan.
Pakistan's Foreign Office, however, claims that account is "factually incorrect," and that there was "no mention at all in the conversation about terrorists operating in Pakistan." They called on the US to immediately offer a corrected statement.
The State Department has refused, saying they stand behind their previous claims. This may reflect the difference between public and private US stances, with the US eager to lash Pakistan publicly, but maybe choosing not to do so during one of their first calls with Pakistan's newly elected leader.