Congress has the power to set the foreign aid budget, but the Trump Administration may not be planning on letting them keep it, with officials reporting that they are planning a "rescission" package to cut money out of the aid budget.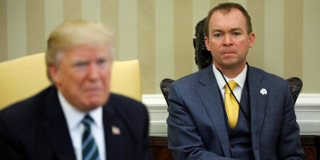 The theory is that the administration could cut out some of the money appropriated by Congress but not yet spent. The goal is to eliminate about $3.5 billion, including $200 million in frozen Syria aid, and an unspecified amount to aid to the Palestinians.
Senate leadership in both parties is loudly opposing this, complaining it would be a blow to both the State Department and USAID. Sen. Bob Corker (R-TN) said he'd consider blocking the move, though despite being the Foreign Relations Committee chairman, he's not clear if there is a way to do that legally.
President Trump wanted the cuts to foreign aid included in the budget originally, but Congress refused to do so. The Office of Management and Budget (OMB) appears to believe that those cuts can still be made to happen.