Afghan President Ashraf Ghani held an emergency meeting on Sunday night to discuss the Ghazni crisis, and ended with a decision to deploy a number of reinforcements to the city, which is being overrun by Taliban fighters.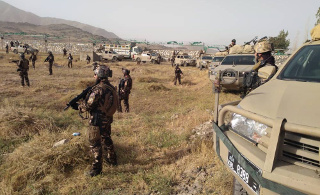 The Taliban began attacking the city Friday, and has killed over 100 security forces since. Reports as of Sunday had them in control of the bulk of the city, and surrounding districts on the outskirts.
The reinforcements are leading to conflicting reports, with the Interior Minister claiming the Taliban are pushing back to just small pockets of resistance. The Taliban, by contrast, says they remain in control of most of the city.
US military statements, unsurprisingly, continued to downplay what they called an "inconsequential fight" on Friday, saying they view the Taliban in the area as "isolated and desperate," and insist that control of the city remains with the government.