A multi-day offensive against the Afghan provincial capital of Ghazni has left in excess of 100 security personnel, including police and soldiers, killed. The Taliban controls the bulk of the city, and has been gaining in the surrounding areas. This is clearly big news, and it's not the only thing going on in Afghanistan.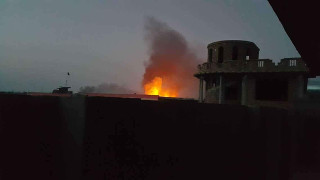 Indeed, the Taliban is hitting several fronts at once across Afghanistan, and major offensives in each. Over the past three days, over 200 Afghan soldiers have been killed, and ground is being lost on several fronts.
Fighting rages in Ghazni City, but also in the province's Ajristan District, further to the west. Afghan Army commandos were attacked, and between 40 and 100 were killed. The exact figure is unclear, but only 22 survivors returned so far.
In the northwest, in Faryah Province, Taliban attacked an isolated Afghan Army base. Officials initially said 17 were killed, though since then some are saying at least half of the base's 100 personnel were lost. The Afghan military predicted the base wouldn't last another day.
Finally, further to the east of Faryab, in the Baghlan Province, the Taliban hit a small roadside base along an important highway. The Taliban killed seven police, nine soldiers, and captured three others.
Afghanistan is struggling to send enough reinforcements to get any of these offensives under control, let alone all four. It remains to be seen how the military will respond, as the Taliban seems to be making big gains almost at will.
Last 5 posts by Jason Ditz