Adding to tensions between the US and Turkey, the Trump Administration today imposed sanctions against two top officials in the Turkish government to punish them for the continued detention of American pastor Andrew Brunson.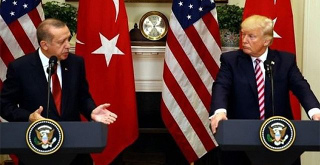 The White House said the move reflects Trump being 'unhappy with Turkey' over the detention. The Turkish Justice Minister and the Interior Minister will have all assets in the US seized, and Americans can do no business with them.
Brunson was arrested in 2016, on charges of being in league with banned Turkish cleric Fethullah Gulen. Such detentions are not uncommon in Turkey, and President Erdogan has insisted US sanctions and threats will not change this policy.
Turkey's Foreign Ministry has also issued a statement saying US threats are totally unacceptable, and disregard the existing alliance and friendly relations between the US and Turkey. Yet this is hardly the only source of tensions.
Turkey has been angrily complaining of US policy in Syria for years, particularly for backing the Syrian Kurds. Turkey threatened military action against US forces in Syria over the matter, and while the two sides came to something of an agreement over one Syrian city, the fate of Syrian Kurdistan likewise remains in the balance, and a source of disagreement between the two NATO members.