Russian Ambassador Alexander Lavrentyev announced on Wednesday that Russia had come to an agreement with Israel on the withdrawal of Iranian forces. The deal will have all Iranian forces at least 85 kilometers from the Golan Heights.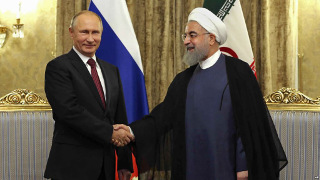 Israel has since denied that this was a deal, and said they consider the pullback "inadequate." It would be surprising if Israel had taken this deal, as they'd rejected a near identical Russian offer of a 100 kilometer buffer just a week ago.
Israel has demanded Iranian forces be removed wholly from Syria. This includes, by Israel's reckoning, all Shi'ite forces, which is how they estimate Iran to have vastly more troops in Syria than they really do. Russia has rejected this, saying they can't force Iran to leave.
This hope was that getting Iran's actual forces away from the Golan Heights would be enough to convince Israel to stop attacking Syrian military sites. All indications are that despite this move, Israel's attacks are likely to continue.