Since Friday, Israeli attacks along the Gaza border have killed at least five Palestinians and wounded scores of others. The slain included two teenagers, one a 12-year-old and the other a 17-year-old, who were shot at Friday's protests near the border.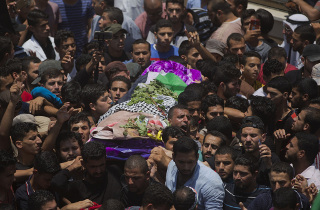 Friday has been seeing protests weekly at the border for months, with Israeli forces having killed 155 protesters since the end of March, when the demonstrations began. The Israeli military claimed their troops came under attack this week before firing on the protesters, though they added there were no Israeli casualties.
In addition to the two teenagers, a 42-year-old protester was also killed Friday. On Sunday, Israel carried out an airstrike in northern Gaza, killing two more Palestinians. Israel claimed the two were terrorists who were trying to either launch a missile into Israel, or had planned to fly a flaming kite.
Violent Israeli crackdowns on Friday protests lead to heavily attended funerals and growing resentment. This in turn fuels Israeli military suspicion that the Gazans will attack them, which leads to more Israeli attacks on Gaza.
Anger grows particularly when the slain at the Friday protests include obvious civilians. The shooting of a 12-year-old boy in the head by an Israeli sniper was a particularly egregious case, with UN officials saying the killing was "shocking." Israel said the 12-year-old refugee had been approaching the fence. Those protesters near the fence tend to be targeted with live rounds by Israeli snipers, even children.
As Israel kills Palestinians, the growing anger eventually fuels attacks into southern Israel. In recent months, this has tended to be flaming kites and balloons, which have set fires and done some minimal property damage. This fuels more Israeli attacks to "stop the kites."
This cycle tends to continue until Egypt or some other nation is able to negotiate a ceasefire. In recent weeks, these ceasefires tend to only go so far as the following Friday, when Israeli snipers are again at the ready to shoot protesters and start the process all over again.