After a successful summit last week, President Trump invited Russian President Vladimir Putin to the White House. He has subsequently put off such an invitation until next year, but that doesn't mean a second summit won't happen before then.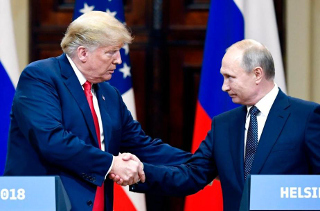 President Putin on Friday announced that he is inviting Trump to visit Moscow for a meeting. Putin further said he is "ready" to go to Washington for talks, but appears to want to have Moscow on the table as an alternative, since Trump appears to fear the political consequences of having Putin visit the White House before the Mueller investigation wraps up.
White House officials say that Trump is "open to visiting Moscow upon receiving a formal invitation." It's not clear when this visit would happen, but it seems likely that Putin is trying to get another formal meeting soon after the Helsinki summit.
That summit was politically difficult for Trump, as he faced repeated criticism from US media and lawmakers for not being more hostile toward Putin. Visiting Moscow would still be controversial, but likely would be less visible than a White House meeting.
A lot of issues were reportedly discussed in Helsinki, and President Trump was quick to declare it a success. Officials have been very vague about anything that was agreed to, however, and Defense Secretary James Mattis says that no policy changes were made during the summit.
Speaking of Mattis, the Pentagon chief also said he is considering direct talks with his Russian counterpart, Sergey Shoigu. No US defense secretary has spoken with a Russian DM in years, with the less confirmed phone call way back in 2015. Face to face meetings are even more rare, and haven't happened in many years.