ISIS forces attacked the Syrian city of Sweida on Wednesday, with large numbers of gunmen and suicide attackers hitting multiple sites across the city, causing massive casualties. This is one of the biggest ISIS attacks in months.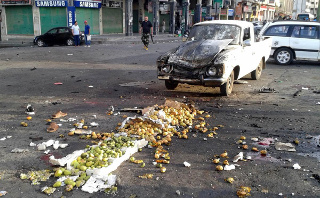 The local health authority put the toll at 215 killed. The Syrian Observatory for Human Rights said they believed 180 people were killed. A number of nearby villages were also reportedly attacked by ISIS at the same time.
Sweida is a Druze-majority city near the Jordan border, and is seen as a pro-government city. This is almost certainly why ISIS chose to target them, as opposed to other cities in the south, which up until recently had been rebel controlled.
ISIS forces control only a few towns in the south of Syria, along the frontier with the Israeli-occupied Golan Heights. Syrian and Russian planes have been bombing the ISIS-held territory intensively in recent days. More airstrikes against ISIS-held towns were reported after this attack.