A suicide bomber detonated himself in a crowd of people in the Kabul International Airport in he Afghan capital city on Sunday, killing at least 14 people and wounding 60 others. Officials say that the slain were both civilians and security forces.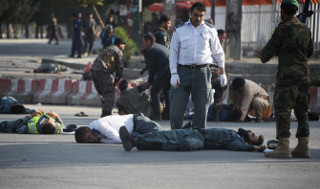 While such a large attack would always be noteworthy, the timing makes it particularly so. The attack took place during the return of Afghan Vice President Abdul Rashin Dostum. A large number of high-ranking officials were present at the time of the attack, though none appear to have been among the casualties. The bomber seems to have hit further back in the crowd, where security was managing civilians.
Dostum has been in exile recently, after he was accused of ordering the kidnapping and rape of a former governor seen as a political rival. Dostum retains substantial political support in the Faryab Province, and his return came amid large protests demanding he be allowed back in the country.
While Dostum and the other officials were unharmed, it was clearly a jarring incident for many, as top officials aren't often present to witness suicide bombings, or the aftermath. ISIS issued a statement taking credit for the attack, which is unsurprising. ISIS has been responsible for many of the larger attacks in Kabul recently.
High casualty attacks inside Kabul have been a problem for years, and the recent flurry of incidents are a particular embarrassment for the Afghan government, underscoring how badly they are failing to provide security even within their own capital city.