An estimated 400 members of Syria's White Helmets NGO were evacuated from southern Syria over the weekend, with the Israeli military bringing them across the border into Israel and then transferring them to neighboring Jordan.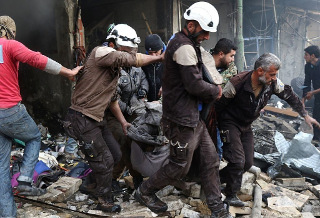 The Israeli military issued a statement after the operation, saying it was done at the request of the US and certain unnamed European countries. The Israeli military termed it a "humanitarian effort."
The evacuations were of White Helmets and their families. Israeli Prime Minister Benjamin Netanyahu claimed that they would be under mortal threat if they remained in the area subsequently taken by Syrian government.
Initial reports claimed 800 people were evacuated, though Jordan's Foreign Ministry claimed it was only 422. Some reports suggested that the rest of the people were not able to be evacuated because of government checkpoints.
Though styled primarily as a rescue organization, the White Helmets have issued a number of questionable allegations against the Assad government. That, combined with their funding form the US and British governments, has many seeing them as largely a propaganda wing for foreign forces operating in Syria.