Just days ahead of the anticipated Helsinki summit between Presidents Putin and Trump, Kremlin adviser Yuri Ushakov issued a statement hailing Trump as a negotiating partner. He appeared upbeat about the chances of the talks.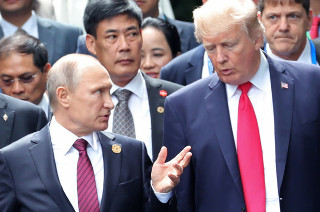 "The state of bilateral relations is very bad," said Ushakov. "We have to start to set them right." President Trump has similarly expressed hope for a substantial improvement in bilateral ties.
Spokesman Dmitry Peskov says that he believes the summit should not be about "bargaining," but rather an opportunity for both sides to clarify positions on a number of topics on which they likely disagree.
Ushakov says the hope is to restore trust between the two sides to an "acceptable level," and to set the stage for continuing contact going forward. This is the first official summit since Trump took office.