Since the planned Trump-Putin summit was announced, NATO nations and other US allies have been expressing serious concerns, fearing that Trump is liable to make deals to improve US-Russia relations, and undermine NATO's recent years of hostility toward them.
W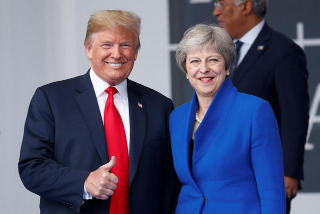 hile most are just complaining, British Prime Minister Theresa May took a different tack on Wednesday. She endorsed the idea of a summit, while demanding Trump use it as a chance to confront Russia over its "malign activity."
May was in particular hopeful that Trump would highlight the British allegations of Novichuk poisoning on British soil. She also mentioned "Kremlin-linked cyber attacks," without specifying what the Kremlin was actually accused of doing.
Canadian PM Justin Trudeau offered a new round of condemnations for Russia as well ahead of the visit, accusing them of trying to destabilize the world. The hope appears to be that making the NATO summit at least partly about railing against Russia will rub off on Trump and give him talking points for the Monday trip to Helsinki.