Syrian pro-government forces were attacked in the village of Atira on Monday night, leading to a prolonged offensive. The village is in the westernmost Syrian province of Latakia, near the Turkish border.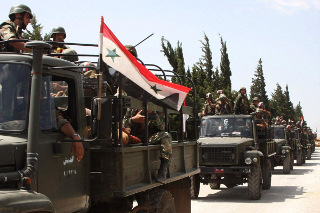 Details are still emerging, but various rebels, presumably from neighboring Idlib Province, were behind the attack. There are several conflicting casualty reports, with the Syrian Observatory for Human Rights saying 27 killed and 40 wounded on the pro-government side. Six rebels were also killed.
Latakia is a top priority for the Syrian government, and its allies Russia, as it is the coastal region. Turkey has been backing some of the rebel factions in northern Syria, but has mostly sought for them to focus on fighting Kurds, not the Syrian government.
It's not clear what led to this attack, but the force in Idlib tend to look for opportunities where they think they can make gains. This might suggest Syria had fewer defenders in the area than before, and thought they could get away with such a raid more readily.