A UN-brokered halt to the offensive against Hodeidah appears to be failing, with the Saudi-led forces launching intense offensives south of the city. On Saturday, Houthi leader Abdulmalik al-Houthi called for a full public mobilization to reinforce Houthi holdings on the Red Sea coast against ongoing Saudi attacks.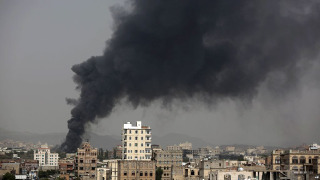 Houthi said the Saudi coalition was backing away from deals reached with the UN, and suggested that an offensive against the port city of Hodeidah itself could be imminent. He accused the Saudis of using the UN talks as a chance to seize control of the city.
The UN had been trying to get control over Hodeidah for themselves, promising to let aid keep flowing through the city, which feeds over 7 million people in northern Yemen. Pro-Saudi Yemeni officials have spurned that idea, saying they want an unconditional Houthi surrender for any such deal.
Over the last few days, the Saudi offensive around Hodeidah has left at least 165 fighters killed on both sides. The fighting has centered on the Tuhytat District, south of Hodeidah. So far there is no sign that the area has fallen to either side.