Officials are reporting that two Pakistani militant commanders were killed Thursday in a pair of US drone strikes. The two were killed in separate strikes, one in North Waziristan, and the second in Afghanistan's Kunar Province.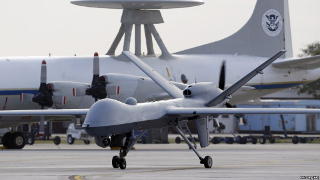 Details are still emerging on both incidents. The attack in North Waziristan reportedly killed Qari Abdullah Dawar, and one of his unnamed associates, hitting his mountain hideout. Pakistani officials say the man was believed to be behind attacks inside Afghanistan.
The Kunar strike killed a man identified as Umar Rahman Fateh, a figure in the Tehreek-e Taliban Pakistan (TTP). Ironically, Afghan officials say this man was wanted in Pakistan for attacks on that side of the border.
US officials have yet to discuss either incident, which is not uncommon. Though the Pentagon does tend to disclose its drones strikes eventually, the CIA also conducts drone strikes, and almost never goes public with the consequences, except on those rare occasions when they kill very high-level targets.