Defeats are mounting for the rebels in the southwestern Daraa Province of Syria, with the frontlines of their forces collapsing in the face of a government push, and a series of towns and villages reaching deals to come back under government control and avoid invasion.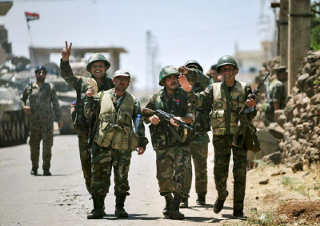 The biggest loss for the rebels is the major town of Bosra al-Sham, which is near the key provincial capital, and which agreed in talks with the Russian government to return to government control. Rebels disputed this, but Syrian state media confirmed the transfer.
Backed by Russia and Jordan, there have been talks trying to establish a ceasefire across the area, giving way to talks that eventually see what little rebel territory remains in the south ceded back to the government. Since the alternative is the military taking it by force, Syria seems loathe to offer much in return, and many rebels have complained it is tantamount to surrender.
The rebellion in the south has shrunk substantially, and beyond al-Qaeda's Nusra Front, most are seen as potential diplomatic partners. Beyond Daraa, the major rebel territory in Syria is the northwest, where much of Idlib Province and parts of Aleppo remain held by rebels, and Turkish-backed forces.