The UN refugee agency has reported that the number of displaced civilians in southern Syria has more than tripled in recent days, with over 160,000 now displaced from their homes in a little over a week. The civilians fled fighting, and areas where offensives are expected.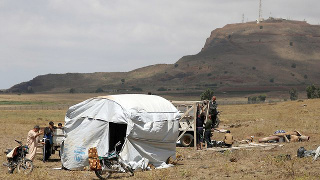 While some are fleeing into government-held territory, large numbers are headed further south, hoping to wait out the violence at the borders with Israel and Jordan. The massing refugees at the border aren't going to be allowed across, however.
Both Jordanian and Israeli officials are saying they have no intention of letting any refugees in. This is unsurprising for Israel, which has made not letting war displaced into the country a top national priority. Jordan, however, has at times let refugees in.
This time, however, Jordan's priority appears to be trying to secure some sort of ceasefire. Israel says it will provide some aid provisions for people at the border, and Jordan likely will do so as well. The displaced seem to be hoping they can wait out the offensive in this area, banking on neither side wanting to get too close to another nation's border.