Citing the need for revenge after eight hostages were found executed by ISIS north of Baghdad, Iraqi PM Hayder Abadi called for the immediate execution of all convicted terrorists in Iraqi custody. This is believed to be 212 detainees.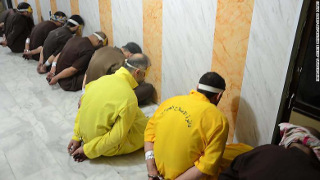 While Abadi initially said this was important to avenge the eight hostages, he also presented it as "fair punishment" for the detainees, and would be a further completion of the "purge" against ISIS-linked forces in Iraq.
212 to be executed assumes only those already sentenced to death will be killed. According to Human Rights Watch, those sentenced to death include people accused of cooking for ISIS forces, and those who worked in hospitals in ISIS-run territory.
Iraq has hung at least 250 detainees since 2014, and has been fast-tracking them in recent months. Iraq has been under growing criticism for its court system's handling of "terror" suspects, with rights groups saying they fail at even the most basic due process.