Russia's Defense Ministry is reporting that a Syrian Army counterattack, backed by Russian warplanes, has killed around 70 rebels in the southern Daraa Province. The strikes came after the Syrian forces repelled an attack by al-Qaeda's Nusra Front.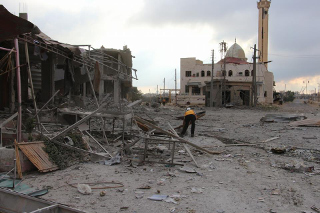 Syria has been gearing up for an offensive in Daraa Province for months, as it is effectively the last rebel stronghold in the country's south. Syrian forces have been deploying near the area recently, and Nusra appeared to be hoping to preempt this with their own attack.
The Nusra-led attacks, backed by the Free Syrian Army, are focusing on the Druze city of Sweida, while the Syrian Army has been counterattacking against rebel fortifications in the al-Balad District, where it believes it has done substantial harm to the rebels.
This area of Daraa is nominally part of the "de-escalation zone," which is supposed to be in a state of ceasefire. This southernmost de-escalation zone was expected to crumble fairly quickly, and the de-escalation deal was never intended to apply to al-Qaeda-linked forces anyhow.