Discussing the question of how long North Korea's denuclearization would take, Secretary of State Mike Pompeo said he wants to continue to see a "ongoing process of making progress," but was not going to put a timeline on it.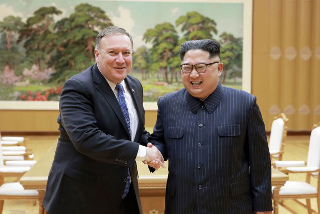 This is in keeping with what he and other administration officials said in the past. There was hope for "major disarmament" by the end of President Trump's first term, but no strict deadlines for anything, so long as progress is being made. Officials have conceded that the size of the North Korean program means it will need to be dismantled in several stages.
Pompeo's comments do contradict those of an unnamed "defense official," who told Reuters that the US is planning to present the North Korean government with a very strict timeline, with a number of specific asks.
These comments were made in the context of Defense Secretary James Mattis preparing to head to Asia, with the official saying it would be known soon if North Korea was really committed.
Contradictory statements aren't unusual in the Trump cabinet, even when high-ranking members like Pompeo and Mattis are concerned. There are, however, reasons to believe Pompeo, who is specifically charged with this subject, is in a better position to know the truth of US policy than Mattis.
Indeed, recent reports suggest that Mattis, and by extension the defense department, are effectively out of the loop on a number of major foreign policy issues, including Korea. Officials familiar with that situation say Trump has cooled on Mattis considerably, and is more inclined to discuss policy with Pompeo and John Bolton.