The Pentagon announced on Friday that they have indefinitely suspended a number of additional war games with South Korea. The US agreed to such suspensions as part of the Trump-Kim summit deal.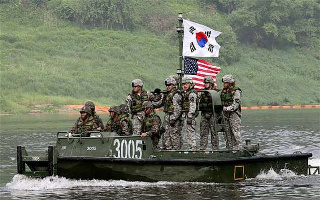 The Pentagon has been slowly suspending planned exercises since the summit, and this new announcement covers everything scheduled for the next three months. This includes the major annual Freedom Guardian exercise, along with some smaller drills related to officer exchange programs.
These war games often sparked the worst tensions between the US and North Korea. Trump conceded that they are "very provocative" during his announcement that they would be frozen. North Korea has also frozen their nuclear program and missile testing under the deal.
With the US-South Korea exercises mostly annual, the Pentagon still will have a few more suspensions to announce to cover all of them. The slow pace of freezing them is likely being done to allow them to make multiple positive announcements about the easing of tensions on the Korean Peninsula.