While the path to a coalition government in Iraq is always potentially uncertain, cleric Moqtada al-Sadr's bloc may be very close to finalizing such a deal. On Saturday, it was announced that Sadr's bloc is entering a political alliance with Prime Minister Hayder Abadi's.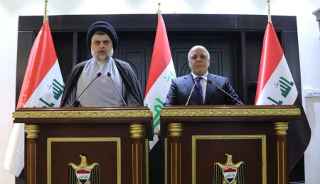 Sadr's bloc won the plurality in the election, an expected 54 seats (pending recount). Abadi's bloc, by contrast, finished in third, with 42 seats. 165 seats are needed for a majority government, but Sadr has already announced an alliance with second-place finisher Hadi Amiri, and his 47 seats.
The three of them reach 143 seats, just 22 short of a majority. Sadr might have that already, with Ayad Allawi's bloc having 21 seats and Ammar al-Hakim's bloc has 19. These two blocs have both previously been reported to have deals with Sadr, though both are said to be at least somewhat uncomfortable with Amiri's inclusion.
There are any number of other avenues to come up with a majority at this point, assuming the top three blocs remain aligned. This should ensure a coalition dominated by Shi'ite parties, though exactly how power-sharing will work remains to be seen.