Taliban forces attacked and overran a road construction camp in southern Afghanistan's Kandahar province on Friday, killing four members of the security forces. They also kidnapped 43 workers from the site.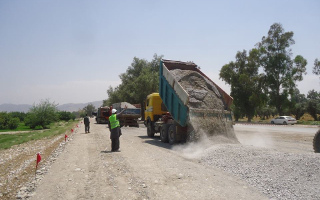 The kidnapped workers were mostly technical staff from the construction crew, but also included cooks and drivers. The four killed were police who were sent to try to rescue the hostages. It's not clear that's all that happened, however.
The Taliban issued their own statement on the matter, saying they initially went out to attack a police checkpoint. The police fled to the camp looking to hide, and that's when the Taliban attacked the camp. Unable to tell who were police, they just kidnapped scores hoping to get them.
Afghan officials aren't saying what happened to the police that fled the checkpoint, or if they were involved in the brief, unsuccessful gunfight that amounted to the only rescue attempt made so far.
In addition, the Taliban killed 16 police and two civilians in western Badghis Province on Friday. This was the second Taliban offensive in Badghis since the weekend ceasefire. The Taliban killed 30 soldiers earlier this week.