For the third time this year, North Korea's Kim Jong-un is in China, and meeting with President Xi Jinping. Xi said the relationship between the two countries is being bolstered and "a new future" in bilateral ties.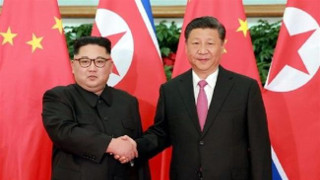 A big focus of the talks, of course, was also the results of last week's Singapore summit between Kim and President Trump, which ended in an agreement on denuclearization, and the US suspending its war games on the Korean Peninsula.
The denuclearization is expected to take years, with US officials saying they expect "major progress" in the next two and a half years. There is also discussion of a deal to formally end the Korean War, which began in 1950. Officials on both sides welcomed the idea of peace on the Korean Peninsula.
Xi termed the results of the summit a "positive outcome." Chinese officials have suggested that the summit deal was largely identical to the framework that they'd advocated in the first place, involving suspending war games for ending the nuclear program.
Kim is seen having gone into this meeting in a strong negotiating position. He's made a lot of progress in various other summits, and China's growing tensions with the US surrounding trade means improving US-North Korea ties virtually oblige China to try to make some offers to ensure the nation is primarily a Chinese ally going forward.