With airstrikes escalating against the Yemeni port city of Hodeidah, the United Arab Emirates is demanding that the Houthi rebels unconditionally capitulate and agree to withdraw from the port.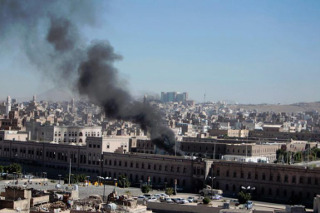 Hodeidah is the main aid port into Yemen, and the only port under the control of the northern Houthi rebels. This means the port is the lone source of food for about 8.4 million people. The fall of the city is expected to spark a mass famine.
There are also an estimated 250,000 civilians left in Hodeidah. With airstrikes against the city on the rise, officials for the attacking forces say that only withdrawing from the city can "save the population."
The Saudi and UAE-led forces started the attack on the port last week, but haven't actually entered the city itself yet. They have, however, made gains around the outskirts, seizing the entrance to Hodeidah's airport, and have pounded the city itself with airstrikes and warship shelling.