While Saudi and Emirati-led forces managed to take the entrance to the Hodeidah airport in northern Yemen, they've so far made little progress in taking heavily fortified buildings inside. This has seen Saudi forces resorting to heavy airstrikes on the area, with locals reporting as many as 20 missile strikes in the area.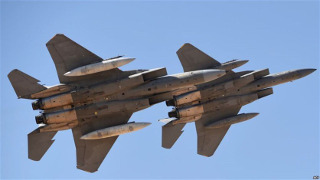 Hodeidah is the main port for humanitarian aid entering war-torn Yemen, responsible for feeding 8.4 million people. Saudi-led forces began the invasion of the city last week, but have so far only taken over the outskirts, pounding the city itself with jets and battleships.
Getting ground troops into the city is going to be a big problem for the invading forces, as Houthi forces have dumped dirt and asphalt on the main road into the city, effectively preventing vehicles from entering. These means the ground invasion is largely going to have to be on foot, as Houthi forces have managed to prevent naval landings near the city.
A protracted battle in the city will, however, add to the humanitarian disaster, as an estimated 250,000 people remain within the city. Moreover, while ships are still able to access the port itself, it's not going to be easy to transport that aid elsewhere across northern Yemen with heavy fighting around the city's outskirts.