Early Wednesday morning, the Saudi and UAE-led forces invading Yemen attacked the port city of Hodeidah. The city is the last port under the control of Shi'ite rebels, and imports food and aid for over eight million civilians. The attack is feared to portend a large famine.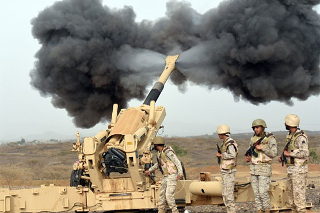 Negotiations to prevent the invasion on humanitarian grounds failed earlier in the week, and the US opposition appeared to evaporate overnight, with the Pentagon announcing they are actually going to join the attack on the city.
Heavy gunfire has been reported around the outskirts of the city, while pro-Saudi forces have overrun the defenses around the airport. Battleships are firing on the city, as the Shi'ite Houthis scramble to send reinforcements to resist the invasion.
Houthi forces say they managed to thwart an attempted sea landing by Saudi and Emirati forces near the city. They added that the invading forces have made no real advances into the city itself.