After a handful of statements last week suggesting the US was opposing the planned attack on the vital Yemeni aid port of Hodeidah, officials are now indicating that the US has reversed again, and will actually be participating in the attack.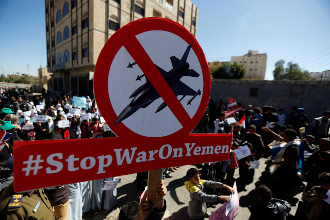 Pentagon officials say they intend to provide growing amounts of military intelligence, including target lists, for the Saudi-led invasion force in Yemen. They argue that this is going to ultimately reduce the civilian death toll of the attack on the port.
Yet US targeting aid in the past has done little to keep the Saudi strikes on Yemen from regularly killing large numbers of civilians. Even beyond this, the fall of Hodeidah threatens to spark a famine that would kill hundreds of thousands if not millions of others.
Many in Congress are pushing for the US to use "all available means" to stop the attack on the port. Some analysts are speculating this move by the Pentagon suggests they just don't have the leverage to do anything to stop the attack. Yet this wouldn't explain why they are deciding to join the catastrophic attack, deepening US involvement in a humanitarian disaster in Yemen.