Following Tuesday's summit in Singapore, President Trump says he believes Kim Jong-un will move "virtually immediately" toward beginning the denuclearization of the Korean Peninsula, saying Kim had already indicated that the process is "really moving rapidly."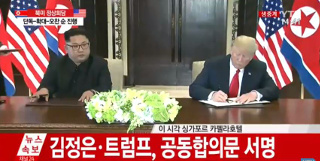 Kim has already repeatedly expressed a commitment to denuclearization, demolishing his nation's lone underground nuclear test site, and also dismantling one of its missile test sites in just the past few weeks.
Going into the summit, officials were already conceding that the process of totally dismantling North Korea's small but meaningful nuclear arsenal would take time, and likely would have to happen in several steps. Still, Kim has been very clear this is a major focus of his peace overtures to the US and South Korea.
Indications are still that the process is going to take place in steps, and some of the US rewards for denuclearization are expected to come as they reach certain key metrics.
That the overall process isn't instantaneous is likely to fuel a lot of doubt from people who already weren't particularly on board for the peace talks in the first place. Time will tell how long this takes, but all signs are that North Korea is committed to this process.