President Trump's successful summit with North Korea's Kim Jong-un has been praised internationally. UN Secretary General Antonio Guterres backed the denuclearization agreement. The most interesting comments came from North Korea's neighbors.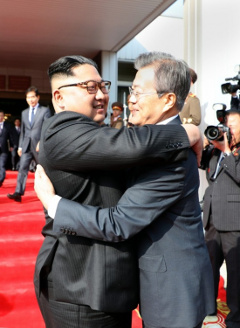 Japan's Prime Minister Abe Shinzo said the denuclearization pledge had "great meaning" for his country. Abe said he will continue to back the US on the matter, and that he hopes for "strong support" from the US on trying to resolve questions about kidnapped Japanese citizens taken by North Korea.
South Korea's President Moon Jae-in, who has had two summits with Kim himself, and has taken the lead on a lot of the diplomatic overtures, was even more upbeat on the talks. Moon vowed to see a "new chapter of peace" on the Korean Peninsula.
"We will be there together with North Korea along the way," President Moon noted. Moon's government has invested heavily in the diplomatic process, and is hoping to not only secure denuclearization, but a peace treaty to end the Korean War, which began in 1950.