During the Tuesday summit in Singapore, President Trump told reporters he had "absolutely" invited North Korea's Kim Jong-un to visit the United States. North Korean state media has since confirmed that Kim has accepted the invitation to visit.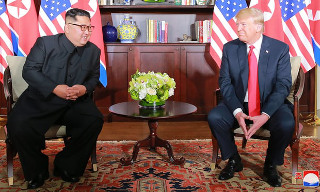 The reports do not make clear when Kim will be visiting the United States, but the state media report said it would be "another important occasion" for US-North Korea relations. They added that Kim had invited Trump to visit Pyongyang.
President Trump went into the summit saying that if things went well he expected to invite Kim to visit the White House. Trump has said the summit went better than anyone could've expected, and it's unsurprising given that he told the press the invitation was offered.
The details are still uncertain, and President Trump seems not to be emphasizing the offer he made during his post-summit Tweets. This is surprising, as usually invites to visit the US are a major focus of Trump's statements after meeting foreign leaders.