As US and Kurdish forces carried out offensives against ISIS in the area, US warplanes carried out airstrikes against the town of Khoeberah, in the mostly Kurdish Hasakeh Province of northeast Syria, killing 18 civilians.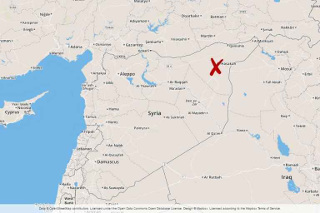 Details are still emerging on the incident, which the Syrian government has confirmed. The majority of the slain civilians are, by their accounts, Iraqi refugees who had fled into Syria during the fighting in western Iraq.
This is a common occurrence on both sides of the border, as ISIS controlled territory straddling the Iraq-Syria border, and offensives against each side tended to send civilians scattering to any place remotely safer than where they were at.
US airstrikes carried out anywhere in the vicinity of suspected ISIS forces have tended to lead to large civilian casualties, and while the US has yet to comment on this latest incident, the Pentagon rarely acknowledges the full toll of errant airstrikes.