Clashes continue to escalate a few short miles from the major Yemeni aid port of al-Hodeidah, as Saudi-backed attackers continue to advance up the coast toward the city of 600,000 people, fighting the Shi'ite Houthi rebels.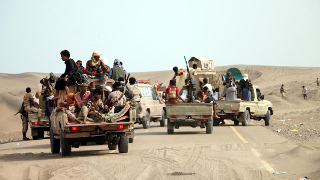 In the past several days, more than 600 people have been killed in fighting that has centered around the port. As the last port controlled by the northern rebels, it is the lone source of humanitarian aid for millions across northern Yemen.
Human rights groups have been warning that the fall of Hodeidah could quickly lead to the deaths of hundreds of thousands, and potentially to a famine affecting millions in the north. The UN has been scrambling to try to negotiate a way to avoid the attack.
Though there has been some suggestion that the Houthis could give the port city to the UN to administer, avoiding it either being attacked or the port closed to humanitarian aid. There is no sign of major progress having been made in recent days, however.
And while the UN continues its diplomatic efforts, they also appear to be preparing to fail, saying they believe an attack by UAE forces on Hodeidah is imminent. UN staff operating out of the port ae already being withdrawn, anticipating the calamity to come.