President Trump described his meeting with Kim Jong Un as "better than anyone could've expected." The two met cordially for a handshake, and after a break for lunch they walked to what Trump described as a "signing." Later, administration officials downplayed the significance of this, though a signing did ultimately take place.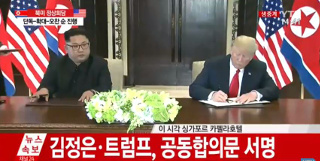 This turned out to be a letter. President Trump said it was "very comprehensive," and would be made public later in the day. He added that the process of denuclearization would begin very quickly. The letter also committed to this effort.
North Korean officials came into the meeting saying that they viewed success as the only option. While Kim admitted to challenges in getting the talks as far as they managed in such a short time, he also said that they had put the past behind them, and the world would see a "major change."
Trump capped his post-lunch conference as saying the US relationship with the Korean Peninsula would be much different than it was in the past. He added that he had a "close relationship" with Kim now. He added he "absolutely will" invite Kim to the White House.