In comments made ahead of the Singapore summit, Secretary of State Mike Pompeo said that the US was willing to offer substantial security guarantees in return for North Korea's denuclearization. He said this would assure that giving up arms is "not something that ends badly for them."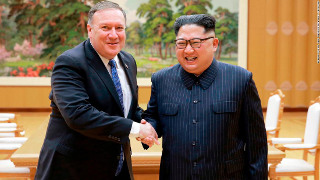 Pompeo went on to say that offers would be "different and unique" from any security guarantees the US has offered in the past. This is important because of North Korea's concerns about the "Libya model," which saw a nation disarm only to get attacked by the US a few years later.
It's not clear exactly how the administration can assure North Korea this isn't going to happen to them, but Pompeo said it would be something unprecedented, and that he was "very optimistic" that it would lead to a successful outcome.
Kim Jong Un has repeatedly expressed a willingness to denuclearize, and it's long been North Korea's stance that they only had the arsenal in the first place to deter the US from attacking. It is a positive sign that everyone is going into the talks with a clear grasp on what they need to resolve for a deal to happen.