In the wake of reports from US and Turkish officials that they'd reached an understanding on the future of the Syrian city of Manbij, the Kurdish YPG, who control the city, have announced that they are going to begin withdrawing military advisers from the city.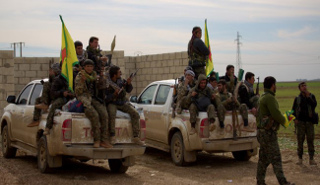 Under the plan, the Kurds are getting kicked out of Manbij, and the US and Turkey will jointly administer the city. Turkey has long complained that the Kurds took the mostly Arab city from ISIS, and had long demanded they be expelled.
Not contented to just have the Kurds leave the city, Turkish FM Mevlut Cavusoglu says that all Kurdish forces leaving Manbij will be totally disarmed on their way out of the city. The YPG has not commented on the disarmament plan.
The even bigger question will be what happens to the rest of YPG territory, which is a vast chunk of Syria, and which Turkey has said they intend to take over outright. Losing Manbij is one thing, but if this is the model, Turkey is likely to start pushing the US to help them seize another city after Manbij is ceded to them.