Among the questions surrounding next week's Singapore summit between President Trump and Kim Jong-un is who is going to pay. It may seem like a small matter, but sanctions against North Korea and the country's financial woes mean it's very unclear how this is going to be handled, and if it's going to cause problems.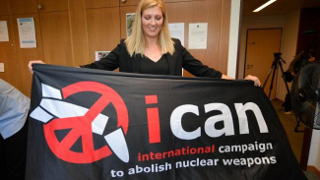 The International Campaign to Abolish Nuclear Weapons (ICAN)  has stepped forward to resolve this issue. The large anti-nuclear group, who won last year's Nobel Peace Prize, is offering to use the prize money to pay for any accommodation and meeting space needed for the summit.
There was a lot of concern that if the US government had offered to pay, it would be seen as a "power play," insulting the North Koreans. Having an NGO, especially a Nobel winner, removes that potential issue.
It also makes sense for ICAN, a group committed to denuclearization, to support an historic summit that would be aimed primarily at a deal to denuclearize the Korean Peninsula. Such a deal clearly is something ICAN would want to support.
How much the summit will cost is unclear, but the hotel Kim is to stay at is reportedly $6,000 per night. The Singapore government has also offered to help pay for the summit to ensure it's success.