The US war in Afghanistan continues to go poorly, and the latest data on casualties underscores just how rapidly things are worsening. In May, 1,762 people were killed and 1,190 wounded. That's a 42% increase over the previous month.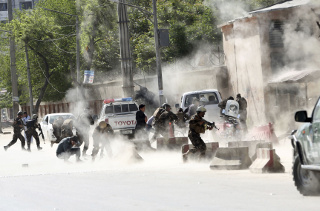 Some of this reflects the continued ratcheting up of the Taliban's "spring offensive," but the offensive was already going for much of April, and unlike in early years of the war, there isn't the same winter lull that used to precede the new offensives.
US troops are deep into their 16th year in Afghanistan, and while Pentagon brass continue to make vague claims of progress and turning the corner, Afghan forces control less territory than ever, and US troop deployments are less about "winning" at this point than just slowing the rate of losses.
Even the capital city of Kabul is practically under siege, with heavy casualty attacks happening disturbingly often. The ability to travel around the country is virtually nonexistent, with US forces relying less on convoys and taking helicopters most places they need to go in the name of safety.
Gen. John Nicholson, the US commander, says infiltrating Kabul is "easier than we would like," but other than throwing more troops at the problem they don't seem to have any idea how to fix the problem.