Russian Foreign Minister Sergey Lavrov issued a statement on Monday saying that only Syrian military forces should be present operating in the areas bordering neighboring Israel and Jordan. Russia says keeping the other forces out of the area is necessary to prevent a serious escalation.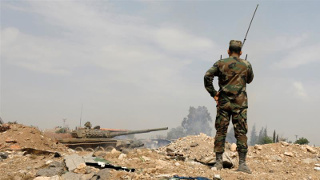 Syria is planning offensives against rebels in the southwestern area of the country, near the Jordan border. Separate reports suggest Israel has agreed not to get involved so long as Russia can keep Iranian and Hezbollah forces out of the area.
Russia is hoping that they can deliver on that, with Lavrov reportedly asking Iran to not only ensure its own forces are out of the area, but to help push other Shi'ite militias off the border as well. Iran hasn't responded publicly.
Iran's own presence in Syria is fairly minimal, however, and they insist they are purely "advisers" who wouldn't be in combat areas anyhow. While Iran obviously has substantial influence over some of the militias, like Hezbollah, many of the Shi'ite militias aren't particularly beholden to Iran.