One of the 12 demands issued by US Secretary of State Mike Pompeo was a complete pullout from Syria of all pro-Iranian forces. Iran hasn't really had a chance to respond, but Syria has already chimed in, rejecting the idea.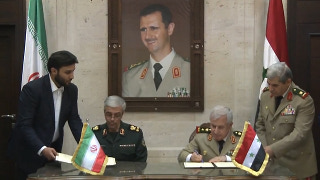 Syrian Deputy Foreign Minister Faisal Mikdad said the matter isn't even up for discussion, noting that the decision "concerns the sovereignty of Syria." He added Syria's government is grateful for the help of Iranian military advisers, as well as Russian troops.
Mikdad further faulted the US for its continued intervention in Syria, and its "support of terrorists in Syria and elsewhere." The US has troops within Syria, but those troops were not invited by the Syrian government.
The US demand for an Iranian pullout likely centers on that being a major Israeli goal in Syria. Israel has repeatedly attacked Syria in recent months, and insists that it is doing so to stop Iran from having a "foothold" in Syria.