With the government having previously rejected the proposal weeks ago, Israel's Channel 10 is reporting Wednesday that Israel is now "strong considering" a long-term ceasefire agreement with Hamas. The proposal would end tunnel building and rocket fire in return for easing border blockades.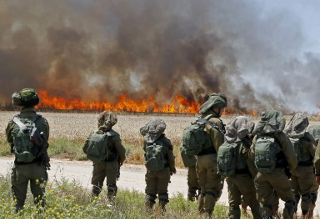 Previously, Israel had issued a series of demands which made any deal conditional on the full disarmament of Hamas, and the Gaza Strip being placed under Palestinian Authority control. Those demands are no longer an obstacle.
Rather, the recent health problems of Palestinian Authority President Mahmoud Abbas has Israeli officials believing their demands are no longer practical. They are now exploring the deal without any preconditions.
The ceasefire proposal is being pushed by Egypt and Qatar. Though Israeli officials aren't publicly talking about it, growing international embarrassment related to protests at the Gaza border is likely informing the Israeli decision to at least discuss the possibility.