Iranian Supreme Leader Ayatollah Ali Khamenei has officially issued a statement detailing conditions Europe must meet to keep the P5+1 nuclear deal alive after the US pulled out. The conditions come after warnings that the EU hadn't done enough so far.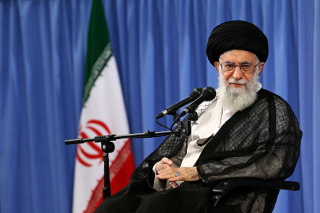 In general, the conditions are to "stand up against US sanctions" on Iran, and condemn the US for violating a UN resolution in support of the nuclear deal. Beyond that, they also want Britain, France, and Germany to agree to avoid international talks on Iran's ballistic missiles program.
The other two conditions are generally economical, insisting European banks should "safeguard" trade with Iran, and that Europe should continue buying Iranian oil. These likely go without saying, as the EU has already forbidden its companies from complying with US sanctions, and have suggested they will compensate any companies the US tries to punish.
European efforts to try to get the US back to the table on the nuclear deal have centered around going after Iran for its ballistic missiles program, which could be a sticking point. Iran is concerned that the missiles will be used as an excuse to replace all of the sanctions relief from the nuclear deal with new sanctions on the missiles program, something the US has been trying to do for months.