Speaking to reporters Tuesday, President Trump ssaid that preparations continue for the summit with Kim Jong-un, but that there is a "very substantial chance" the talks will be postponed from June 12. Trump suggested Chinese President Xi Jinping was to blame.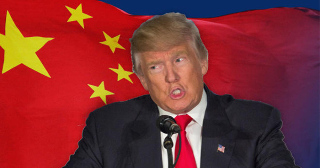 Trump said there was a "little change in attitude from Kim" after his second meeting with Xi. He offered no suggestion as to why China would want the talks delayed, and said it was possible the talks would just happen later.
This may be the administration trying to connect two unrelated events. Kim met with Xi in China on May 8, and North Korea made no public comments suggesting a change for nearly a week. Then, it came after US-South Korean war games, and North Korea was very clear it was the war games they were upset about.
Subsequent North Korean anger about John Bolton's talk of the "Libyan Model" of denuclearization has left the Trump Administration baffled, despite South Korean officials trying to explain it very carefully. Neither of these things has anything to do with China, and with China openly supporting the peace talks, there's little reason to think they're secretly sabotaging them.