Aerial combat drills involving US and South Korean warplanes are riling North Korea, whose state media referred to the exercises as a "provocative military ruckus." North Korea has responded by postponing some high-level talks with South Korea set for Wednesday in the DMZ.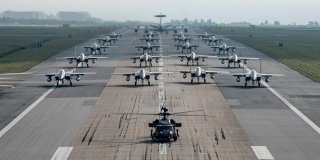 North Korea's statement also admonished the US to "undertake careful deliberations about the fate of the planned North Korea-US summit." North Korea submitted a notice to South Korea on the Wednesday postponement, but the US State Department says they've received nothing suggesting a change in summit plans.
There was a lot of speculation that North Korea is backing away from the talks, but that doesn't seem to be the case with the summit. At least for now, plans don't appear to be changing, and months of planning for such a historic meeting would be hard to scrap at this point.
The Kim-Trump summit has been confirmed for June 12 in Singapore, and US officials say there is no sign that this sudden increase in tensions is in any way putting that in jeopardy. The talks are expected to focus chiefly on denuclearization.
North Korea had looked the other way during the annual spring military exercises in South Korea, which were smaller than usual, and half the length of normal. It's not clear exactly why the new aerial drills are much more objectionable, but North Korea suggested they view it as a violation of the understandings they'd reached at a summit with South Korea.